Fear Not!
December 02, 2018 | Sarah Stewart
Passage: Luke 1:26-38
For me, it was just the regular commuter rail to Boston; but for the four-year-old girl in front of me, it was an adventure. She bounced from seat to seat and asked her mother endless questions. Why did the train stop? Why did people get on and off? Were they really going to Boston? Look at the trees outside! What was that noise?
And when her harried mother handed her her backpack and begged her to play by herself for a few minutes, the little girl moved into the empty window seat across the aisle. She sat quietly for a little bit, looking out the window at the trees and houses rushing past. Then she began a conversation with her imaginary friend. "Whatcha doin?" the imaginary friend asked.
"I'm on a train," the girl said.
"Is it scary?" asked the friend.
"It's not scary," said the girl.
A pause.
"Well, it's a little bit scary."
Later, as the train approached Back Bay Station, it slipped into a tunnel. Outside the windows was the pitch black of the ground under Boston. The girl said to her mother, "Why is it dark?"
"Because the train is underground, honey."
"We are not underground!"
"Yes, we are. The train is in a tunnel."
"No! We are not underground! Maybe it's nighttime. If the train was underground, that would be scary."
Now, we laugh because we're the adults, but how often do we do that ourselves? How often do we turn away from some frightening truth because we are too afraid of what we see through the windows? How often do we convince ourselves that everything is fine when it's not? Sometimes we are still our inner child, and we pretend our fears are not really confronting us. But sometimes, we need to face our fears and cope with the challenge before us. The world needs our bravery. As we enter this holiday season, a brave Jewish leader named Mary can be our guide.
The story of Mary accepting the role of being Jesus' mother appears in the gospel we call Luke. Mary, a young Galilean woman engaged to a man named Joseph, is presumably alone one day when an angel appears to her. The angel greets her, and Mary was perplexed. She "pondered what sort of greeting this might be," which any of us might, if an angel appeared to us. The angel, though, interprets Mary's perplexity as fear, because he then says, "Fear not, Mary!"
Let's talk about that "fear not" for a minute. This is an angel's standard opening line. It's what the angel says to the shepherds just before a multitude of the heavenly host appear before them. In other words, when an angel tells you to "fear not," you can be pretty sure that something terrifying is about to happen.
But Mary is not afraid, the story tells us. She is "perplexed." The angel doesn't pick up on this and goes ahead with his "Fear not!" line and a very fancy speech anyway. Mary is going to become pregnant and have a baby, the angel says. When Mary gets a word in edgewise, she asks how this can be, since she has not yet had intercourse with a man (and apparently doesn't plan to before her marriage). The angel says, "The Holy Spirit will come upon you, and the power of the Most High will overshadow you."
I think we can imagine Mary giving the angel the side-eye here. She has asked a very straightforward question, a logical question, and she has received a very vague and magical-sounding answer. So even though the text doesn't record her saying anything, I like to imagine the angel getting a little nervous that his canned speech isn't working. He needs this woman to do her part. She isn't afraid, and she might not even believe him!
So the angel, sensing that he's losing his sale, pulls out a miracle and tells Mary that her cousin Elizabeth is now expecting a child, even though she is too old to be pregnant. The angel says, "Nothing will be impossible with God."
And this is what convinces Mary: the reminder of God's blessings and divine power in her own life. Hearing God's call, she responds like her prophetic forebears: "Here I am, God; let it be with me according to your will." She may have been afraid and hiding it. She may have been confused and surprised. But when Mary is presented with God's call to her life, she takes it up with prophetic power and courage.
Mary was not afraid. She responded in power. Grounded in her faith and her community, Mary said "yes" to her calling.
There's a lot of evidence of Mary's personal courage and fortitude in the story of Jesus, from this moment of her brave "yes" to her witness to her son on the cross. But we must see Mary not as a person alone, but as a woman grounded in her Judaism. She calls on the power of the Jewish people's resistance to empire.
Mary is well known for her song, the song of Mary, known by it's Latin name, the Magnificat. This is a song of resistance. In it, Mary identifies herself as a "lowly handmaiden," and she recalls God's greatness on behalf of his people. One of my favorite lines is the one we heard Ray sing earlier: "God has scattered the proud in the imagination of their hearts. He has cast down the mighty from their thrones, and lifted up the lowly; he has filled the hungry with good things, and the rich he has sent empty away."
This is not a God on the side of earthly power. This is not the God of the profit motive, the God of I've-got-mine, or the God of come-out-on-top. This is not the God of Caesar or empire. This is the God of Israel, the God who has seen his people through centuries of resistance. This is the God of the humble, the lowly, the hungry and the poor. In this song, we hear the echoes of the Beatitudes.
And we can hear, too, the echoes of the Chanukah story. Fragments of Mary's song come from Maccabean poetry of decades earlier, the poetry of the armed resistance to foreign occupation, the movement which put Jewish people in charge of Israel and their own political destiny. People might have sung pieces of this song decades before Mary was born, in their fight for freedom and resistance.
Mary is not only personally brave and forthright in accepting the mantle of motherhood which the angel offers her. She is rooted in her sacred community. She accepts her calling as a Jewish woman, as the daughter of the Maccabean heritage, as a child of the God of Abraham. She answers as a prophet would answer: "Here I am God; send me." She knows her work is sacred work. It bolsters her and gives her the courage she needs for what is to come.
What is to come: for Mary, motherhood, and being the mother of a spiritual master, and watching her son be executed by the Romans. She needs all the courage she can muster. All of us face struggles in life, and all of us need all our strength. We need some of Mary's courage, too.
We don't usually get angels who announce our fears before they happen. Our fears don't come with marquee displays or content warnings. And we might feel that they should be easier to face than the birth of the Messiah, but our fears feel very real to us.
There's the fear of loneliness. There's the fear that your body is failing you, or that old age will undo who you are. There's the fear of confrontation, or of really telling the truth in your closest relationships. You may know that your fears are unfounded, and be afraid anyway. I'm afraid that the people I love will someday die, even though I know they will. Talk about irrational. There's the fear that if people saw the real you, they wouldn't like what they saw. There's the fear of the power of addiction, or of the power of rage. There's a lot in our personal lives to be afraid of.
The wider world is also full of fear. There's the fear that racism in America is getting worse, not better. There's fear that the climate is already irrevocably broken. There's the fear that truth is losing the battle to lies. The fear that America is not living up to its promise. The fear that our kids won't be able to make a living on what they can earn. The fear that the world is going—well, is going away from the holy and not toward it. These are big fears. The fears in our souls and the fears of the world weigh us down.
But in the midst of that fear, in the thick of it, there is that angel song calling to us just like it called to Mary. There is that divine power burning in each of us. And it's a good thing, because there's no one here but us. We need some of Mary's courage so that we, too, can stand up and say, "Here I am God; send me."
After all, there are ways to be brave in the face of our fears. Even if the train really is underground, bravery is an option.
Take climate change. It's a big fear. Ocean levels are rising, storms are getting worse, fires burn hotter, and the insects are dying. What can we do in the face of that? Well, we can drive cars that don't burn gasoline. We can install efficient heating and cooling systems, like we just did with our own church's capital campaign. We can install solar panels on our homes. In New England, where solar panels have been installed on many homes and businesses, the relief on the electrical grid is noticeable. We are grounded in our communities. You don't have to be brave on your own. Your people are with you.
And what about the fears of our hearts, the fears of broken relationships or personal failure? Sometimes these don't feel like something we can share. We feel alone with these fears. And in those alone places, the power of the sacred is with you, in your heart and soul. Our faith teaches us that every person, just as they are, has inherent worth. That means you, too. You are worthy of love. You can find healing. Your bravery may be the courage to ask for help, or the courage to tell the truth, or the courage to admit that something is wrong. With you, every step of the way, is the promise of the holy one of Mary, who is on the side of the imperfect. That holy presence which shines in you, just as you are, and will be with you always.
We all have our moments of lying to our imaginary friends that we are not afraid when, in fact, we are terrified. We all have our moments of looking skeptically at the angel who comes bearing a joyful opportunity to do a really hard thing. Who wouldn't? But we can be brave in the face of our fear. We can do hard things. I know we can, because none of us is alone. We are together, rooted in our community, and filled with the light of the sacred spirit. When I pray, I sometimes address my prayer to that "spirit that is greater when we are together than when we are alone." That spirit is with you in your fear and in your courage, urging you to say, "Here I am; I may not be able to do everything but still I can do something. Here I am; send me."
Please join me in the spirit of prayer.
May our souls magnify goodness and love, and may our spirits rejoice in saving graces.
Give thanks to the Holy One who has looked with favor on those who are cast out by society.
Give thanks for the blessings of our own lives, and thanks to the Source of those blessings.
May Love's mercy be with all people from generation to generation.
This Love will scatter the dreams of the proud;
it will bring down the powerful from their thrones, and lift up the lowly;
it will fill the hungry with good things, and send empty away those who lord it over others.
The Spirit of Love has been merciful to us and our ancestors,
and we know it will be with our descendants forever.
Amen.
Series Information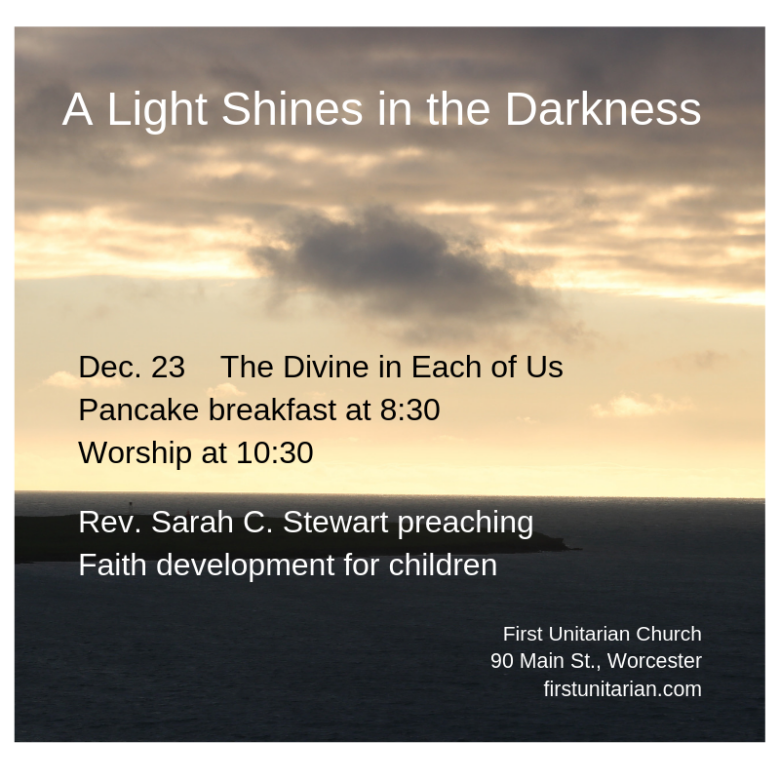 Even in our darkest times, a light shines that cannot be overcome. The darkness, too, has its own wisdom and peace. In this Advent season, we will worship together in search of courage, sustenance and hope.