Welcome
First Unitarian welcomes families or all shapes, sizes and backgrounds and we hope you will find a home here with us.
Sunday Mornings:
UU-ogora: The Quest for the six sources
During this time of social distancing, when we are not holding in-person worship, our Faith Development program will be online.
Families can tune the into First Unitarian Church's Live Worship service on YouTube at 10:30. After the story for all ages, called the Magical Moment, at about 10:45, children and youth are invited to log-in to our Wiogora Google classrooms where they can choose a 30 minute class that appeals to them. It might be Transfiguration, Games, or perhaps Magical History - the classes will vary each week.
At 11:15 everyone is invited to our virtual Great Hall where we'll talk about our morning, maybe solve some puzzles to help us on our Quest, and sing some songs.
Registration
All children and youth need to register for our Faith Development Classes so they can be given their own Wiogora email address. They will use this email to access our google classrooms.
Register HERE
Christmas Pageant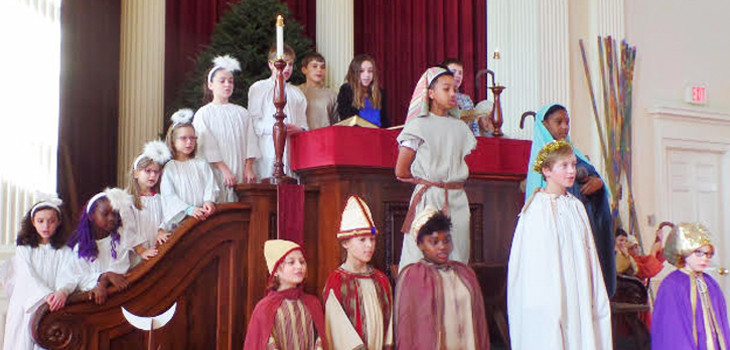 In December we host our annual Christmas pageant when we tell the story of Jesus' birth complete with Angels, Shepherds, Wise People and the evil villain, Herod.
stories
Our Children's Coordinator Abby has created many videos for families to watch:
Check out our Gnomes, who are living with us at church and in our homes: