MUSIC STAFF
Director of Music & Organist

Will Sherwood is the Artistic Director for the Mechanics Hall Worcester Organ Concert Series and Principal Organist at Mechanics Hall. He has been Director of Music & Organist at First Unitarian for 35 years, and is currently Dean of Worcester AGO. He has appeared in concert at Mechanics Hall, as well as guest artist with the Boston Pops, and on organ concert tour in Europe and the U.S. For thirty years, he was a Sr. Engineering Manager at Intel (formerly Digital (DEC) ). Since corporate retirement, he is CTO & Owner of Sherwood Hosting, providing web hosting, web & graphic design & database design, and commercial photography services.
Assistant Director of Music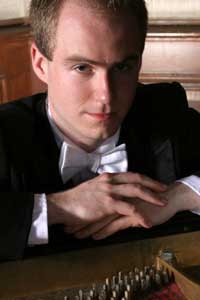 James Haupt is well known in the community and college theaters in the Central Massachusetts area as he has music directed, appeared in, and played for countless productions. His favorite past shows include Music Directing for Seussical (Calliope Productions), and Honk! (Sterling Community Theatre). James has been a regular figure in the music program at First Unitarian for the past six years, and has additionally filled in at numerous congregations around the area. He received his Bachelor's degree in Electrical Engineering and Music from Worcester Polytechnic Institute, and is currently pursuing his Masters Degree in Systems Engineering. During the day, James works as a Systems Engineer at Raytheon in Tewksbury, MA specializing in Electronic Warfare.
---
Classical Music Artist In Residence Summary
First Unitarian has a long history of presenting fine music for its parishioners and the community. We are fortunate to have among our membership fine professional instrumentalists, and great musicians in our community. We are proud to present them with the honor of Classical Music Artist-In-Residence – to elevate/promote their talents with the appreciation and visibility they deserve. A part of our music program's mission is to develop and encourage young talent both within our church and in the larger Worcester community.
Included from our own church are:
Professional musicians who are church member instrumentalists who have volunteered in our music program;
Chamber music groups that have participated in services and concerts.
Large NYC churches have maybe 1 or 2 artists, but we are extremely fortunate to have so many professional musicians among us.
The benefits are great for both the musicians and the church:

1st

U is proud to have Classical Artists In Residence to honor/acknowledge these instrumentalists for their fine playing and contributions of their talents to our music program.
1st

U is a major downtown church is promoting the performing arts (this AIR program along with our Young Artist Initiatives)
Artists In Residence -
Professional
Instrumentalists
Madeline Browning, flute
Noel Cary, clarinet
Ken Melnick, clarinet
Bob Gordon, percussion
Becky Spanagel, piano
Jim Kassal, bassoon
Jerry Bellows, recorder
Young Artist in Residence




2018-19: WYO Honors String Quartet
Jolina McConville, Angelina Howard,
Patrick Chatham, Brendan Mathot

Jolina McConville has been playing violin for eleven years and and is going into her seventh year of playing with the Worcester Youth Symphony Orchestra. She has spent four years as the principal second of the symphony, and first chair and principal second in both the Worcester Youth Honors Quartet and Baroque Orchestra. Jolina is a student conductor, taught by Jack Corbett of the Worcester Youth Orchestras, and has conducted the WY Philharmonic Orchestra in concert several years in a row. She studies violin privately with Peter Hughes and participated in the Global Strings Intensive Program at Berklee this past June. She plays at many hired events and functions.

Angelina Howard is a senior at Quabbin Regional High School. She is an active member of their orchestra and the National Honor Society Treasurer. Angelina studies violin under Regie Pinenda at the Joy of Music Program where she also participates in their Symphony Orchestra. Angelina is a key member of Worcester Youth Orchestra, playing in the Symphony Orchestra, Baroque Orchestra as well as the Honors Chamber Quartet. In her free time, Angelina volunteers as a teaching fellow at a free violin school in West Brookfield and teaching religious education. She also enjoys listening to music and playing with her dogs.

Patrick Chatham has been playing with the Worcester Youth Symphony Orchestra for three years. For the last two years he has been principal cellist with the orchestra and has played with the Worcester Youth Honors String Quartet and the Worcester Youth Baroque Orchestra. He studies private lessons with Betsy Bronstein at the Worcester Academy of Music. Patrick as spent one year as Young Artist in Residence at the Unitarian Church of Worcester. He has also attended the Global String Intensive Program at Berklee College of Music two years ago and this past June. In his spare time Patrick preforms at private functions, including weddings and parties.

Brendan Mathot is a high school sophomore who plays in the Abby Kelley Orchestra. He has been playing viola for 7 years and studies viola privately with Susan Kirchhausen. He has been a part of the Worcester Youth Symphony Orchestra for 3 years now. He has been the principal violist in both the Honors Quartet and the Baroque Ensemble. Brendan auditioned and was apart of the Central Massachusetts Junior Districts twice.

2017-18: Patrick Chatham, cello
First U Collegiate Choral Scholars
2018-19

First U is proud to sponsor CCS young singers to sing in our Festival Choir approximately three Sundays per month during the school year.
This allows the students to gain additional experience in choral repertoire and performance, and the congregation loves to support young musicians.
Julia Bigwood,

soprano, is an undergraduate at WPI majoring in aerospace engineering and minoring in music. In addition to singing in the WPI Festival Choir and Alden Voices, she is also a member of the Chamber Choir. She also plays the trumpet in WPI instrumental ensembles including the concert band, full orchestra, and brass ensemble. Going forward, Julia hopes to participate in musical theatre and continue with her musical endeavors.
Amanda Dings,

alto,

is a Senior majoring in Aerospace Engineering at WPI. In her not-so-copious amounts of spare time she sings in the WPI festival choir, chamber choir, and is the technical coordinator of

Audiophiles a Cappella.
Dan Caffrey, tenor, is a Junior as WPI majoring in Electrical and Computer Engineering with minors in Computer Science and Music. Daniel spends most of his time singing, as he is also a member of the WPI Men's Glee Club, Chamber Choir, VOX Musical Theater, and the all-male a cappella group Simple Harmonic Motion. Daniel is thrilled to now be a part of the First Unitarian Choir as well.
Ryan Choate, bass
Jacob Morse, bass