Worship Through Music
Music brings us together, comforts us when we grieve, and helps our spirits soar. Many volunteer musicians work together to create the music ministry we experience each Sunday.
The Choir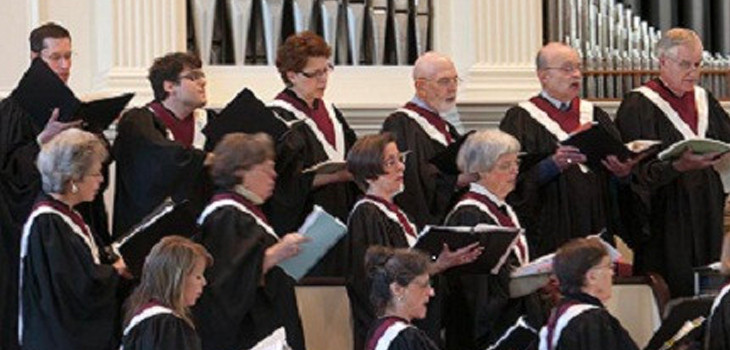 Our unique choir sings two or three Sundays each month, providing several anthems and all service music. On other Sundays, our music staff or guest musicians (including many from our congregation!) provide beautiful solo and ensemble music.
Several times a year our choir is joined by an orchestra for special Music Sundays. Music truly is at the heart of our worship life as a congregation. All are welcome to join the choir; there are no auditions. The choir rehearses on Thursdays from 7 to 9 p.m. and on Sundays from 9 to 10 a.m. Contact Director of Music Will Sherwood for more information or to join the choir.
Artists in Residence
First Unitarian Church has a long history of presenting excellent music for its parishioners and the community. We are fortunate to have among our membership fine professional instrumentalists, and great musicians in our community. We are proud to present them with the honor of Artist-In-Residence – to elevate and promote their talents with the appreciation and visibility they deserve.
Young Artists in Residence
A part of our music program's mission is to develop and encourage young talent both within our church and in the larger Worcester community. Because of COVID logistics, we are not having a Young Artist in Residence.
Collegiate Choral Scholars
First Unitarian Church is proud to sponsor young singers to sing in our choir approximately three Sundays per month during the school year. This allows the students to gain additional experience in choral repertoire and performance, while supporting the big sound of our choir. The congregation loves to support young musicians.
Supplemental support for our music program comes from generous donors through the Encore Fund.