Open invitation to sing in our Festival Choir
Including: MOZART REQUIEM – with full orchestra
Auditions not required, yet you must show proof of full Covid-19 Vaccination and masks are required
We support learning your music with online rehearsal capability, in addition to live, in-church rehearsals.
We support your health by conducting the live rehearsals alternating between two separate large spaces.
Our Festival Choir enjoys professional instrumental accompaniments from full orchestra to chamber instruments, including a variety of brass, winds, strings, timpani, and our twin Steinway grands and magnificent Aeolian-Skinner pipe organ. We're proud to occasionally feature our Artists in Residence.
When you're in a choir, the whole world sings.
COLLEGE STUDENTS, ADULTS, YOUNG ADULTS, TEENS
During the church year (Sept – May), rehearsals are Thursday nights, and we sing typically three Sundays each month: two anthems per Sunday and various responses/descants.
Scroll through our upcoming exciting repertoire: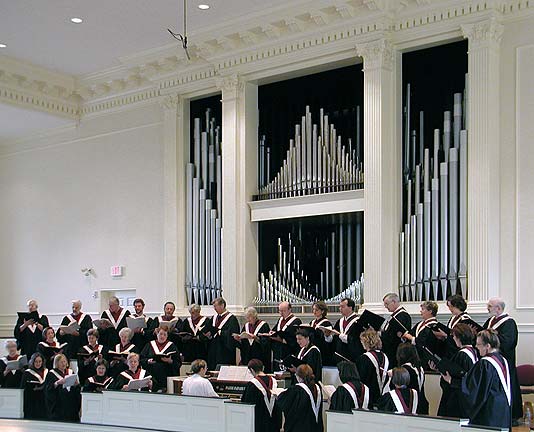 Benefits of choral singing at First U:
Opportunity to sing large works with orchestra or instruments several times a year.

A diverse repertoire of classical, gospel, earth-centric choral works.

Feeling of satisfaction and achievement

Improved Musical Skills can be retained as a life-long hobby and interest

Learn interesting facts about music history

Enter into lively discussions about the meaning and theology behind choral texts

Fun rehearsals, making music as a group, make new friends, camaraderie each week